Happy Hump Day! Is it just me or this week flying by? I guess since we have been busy working on the baby's room, organizing our office and garage in the evenings, the days have been going by fast (which is good I guess?!).
Anyhow, it has been a while since I shared a new recipe with you, so I'm excited to share another version of my creamy mashed cauliflower, Garlic Butter Mashed Cauliflower, that we enjoyed earlier this week. This is definitely my favorite mashed cauliflower recipe and a wonderful, healthier alternative to garlic mashed potatoes!
Garlic Butter Mashed Cauliflower
Ingredients
2 small heads cauliflower
2 cloves of garlic (minced)
1/2 stick of butter (or 1/4 cup ghee)
3/4 cup chicken broth
1/4 cup Parmesan cheese
2 tsp Italian seasoning
pinch of salt and pepper
Instructions
Wash and chop cauliflower. Place in a microwave-safe dish and microwave on high for 5-7 minutes until tender.
Add cauliflower to food processor and pulse to a "rough" puree and set aside.
Saute garlic with the butter on low heat in a small saucepan.
Add sauteed garlic and butter to cauliflower, along with cheese, broth and spices.
Blend well, but not too much to ensure the texture is not too soupy.
Serve immediately with your favorite protein and enjoy!
http://deliciouslyfit.guru/garlic-butter-mashed-cauliflower/
Since it's Wednesday, I'm also joining Jenn for What I Ate Wednesday! Be sure to check out her blog for all of her delicious eats!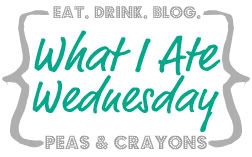 Questions:
Have you tried mashed cauliflower? If so, how did you prepare it?
What is one thing that you have eaten today?