Happy hump day! I'm SO excited to be the SITS Girls featured blogger today!! Welcome my fellow SITS-tahs! I hope you will say hi and keep in touch through Facebook, Twitter, Pinterest or Instagram!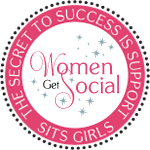 For those of you who are not familiar with The SITSGirls, it is a wonderful blogging community of 40,000 women that offers support, tons of resources and an opportunity to connect with so many fantastic bloggers!
After the the birth of my son, I realized that life is too precious to let it pass by without doing something you love. I went back to work for 6 months and finally made the decision to resign and do what I enjoy, while being able to spend time with my son. I started this blog, as well as my own business of wellness coaching and personal training for women. I love helping others, especially new moms, and  helping them realize that being a mommy doesn't always mean sacrifice. In order to be your best self, you have to fulfill your needs, such as eating healthy and nourishing foods, staying active, and doing things to treat yourself. Fit 'n' Well Mommy chronicles my day-to-day juggling act of meeting my needs and the needs of my family while staying fit and sane!
Here is what you can expect from Fit 'n' Well Mommy: new recipes posted frequently since my husband and I both love to cook, workouts that you can do at home, CrossFit talk (since I'm totally hooked, though we haven't "drunk the Kool-aid", as my husband says!), potty training trials and tribulations, dealing with the terrible twos at times, tidbits on health, fitness and wellness, cherishing favorite moments, giveaways and anything else that might come up!
I hope to inspire others by sharing my adventures of being a new mom, staying fit and making healthy meals for my family, as well as my knowledge and passion to ultimately help you become a Fit 'n' Well Mommy, too!