Happy Hump Day!
I'm so excited to share my Overnight Protein Oats recipe with you all because it's super simple to make and such a great on-the-go breakfast!
I don't know why I waited to make these until now. I have seen various recipes on several blogs, but I never thought to try any until last weekend, and I'm so glad that I did! This is one of my new favorite breakfasts and I can't stop eating it! I've made this every night for Keenan and I since last Friday and we both can't get enough of it! Also, I love tweaking it a little to change the flavor, depending on what I'm in the mood for.
So, here you go!
Ingredients
2/3 cup quick oats (you can use whole oats if you like)
2/3 cup milk (any kind will do)
1 1/2 tsp cinnamon
1 Tbsp coconut sugar
2 Tbsp chia seeds
1/4 cup egg white protein powder
1 banana (mashed)
Instructions
Mix all ingredients together in a small bowl.
Cover with plastic wrap or lid and refrigerate overnight.
Serve with a dollop of nut butter, nuts and/or fruit. Enjoy!
Notes
For a thinner consistency, use a little more milk. Also, if you prefer a warm bowl of oats, you can heat it up in the microwave for 1-2 minutes prior to eating.
http://deliciouslyfit.guru/overnight-protein-oats/
Since it's Wednesday and I haven't done a What I Ate Wednesday post in over two months, I'm joining Jenn today for her fabulous link up party.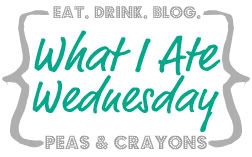 Enjoy your day!
Questions:
Have you ever tried overnight oats?
What is your favorite go-to quick breakfast?
Do you prefer a warm or cold breakfast?