I've been meaning to post this recipe for a while, but I have to warn you, it is NOT the most healthiest recipe. It's the real deal…made  with lots of butter (at least my pie crust is!), refined flour and sugar. When it comes to pies and most desserts, I'm not one to substitute. I would rather enjoy the real thing, just not a lot of it and not all the time. I believe everything in moderation. A piece of pie or galette made with refined flour and sugar with ice cream or homemade whipped cream every once in a while is not going to hurt you, as long as you continue to eat healthy (and stay active) the rest of the time. I know my husband is doing a happy dance right now because for the longest time I used to substitute everything, until he made me realize that it is just not worth it. Things are not going to taste the same when you substitute everything. Don't get me wrong, I love making baked goods with oat and almond flour for a healthier treat, but you can't make a good pie or galette without using plain old flour and sugar.
So, with that being said, here is this deliciously tart and sweet Simple Plum Galette that I've been anxiously waiting to share with you. I actually made it on a whim after a good family friend brought us a huge bag of organic plums from her tree. I had some leftover homemade pie dough in the freezer after I made my husband a lemon meringue pie for Father's Day, so I thought it would be fun to try a simple galette. Just like a pie, you can make a galette with any fruit, so if you don't have plums, you can try this with peaches, nectarines, apples or even berries. Here you go…
Ingredients
1 uncooked single pie crust
10-12 small plums pitted and sliced
2 tablespoons flour
8-9 tablespoons of sugar (depending on the sweetness of your plums)
Powdered sugar
Instructions
Preheat oven to 350 degrees and prepare a cookie sheet with butter, nonstick spray or a layer of parchment paper.
Roll out pie dough to a 12-13 inch round circle.
Mix flour and 3 tablespoons of sugar together. Sprinkle at the bottom of the pie dough.
Place plums in a small bowl and sprinkle the remainder of sugar on top. Mix well to coat all plums.
Place plums skin down in one layer in the center of the pie dough. Leave a 1-1-1/2 inch border all around the pie dough.
Fold the edges of the pie dough all around to cover the outer plums.
Transfer galette to prepared cookie sheet and cover loosely with a foil. Bake for 50-60 minutes. Remove foil and bake for an additional 5-10 minutes until juices are bubbling.
Remove from oven and sprinkle galette with powdered sugar.
Serve warm with fresh whipped cream or vanilla ice cream. Enjoy!
Notes
If your plums are really tart, use more sugar, as the skins add more bitterness when cooked. If your plums are very sweet, use less sugar.
You can make this galette with any fruit, so if you don't have any plums on hand, try peaches, nectarines, apples or berries.
http://deliciouslyfit.guru/simple-plum-galette/
Thanks, Jenn, for hosting another What I Ate Wednesday! Be sure to check out her blog for all of her delicious eats and recipes!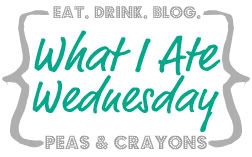 Questions:
What are your unhealthy splurges (or guilty pleasures)?
Do you prefer to eat the real thing when it comes to dessert, or something more healthy?
How often do you let yourself indulge in any sweets or special treats?