Happy Hump Day!
It's been a while since I shared a recipe, and boy, do I have a good one for you today…Turkey Taco Pie! I made it a couple of weeks ago and it has now become a "regular" in our household because it's THAT good! It's also super easy to make and best of all, you can put it together the day before or a few hours ahead of time to make dinner that much simpler. With two kids in tow, I'm all about making quick and easy dinners these days.
With that said, here you go…
Ingredients
1 1/2 lbs ground turkey
1 large yellow onion (chopped)
1 red and 1 green bell pepper
1 can chopped tomatoes
2 cups salsa of your choice
1/2 cup fresh cilantro (chopped)
10 medium size corn tortillas
3/4 - 1 cup of sharp cheddar cheese (shredded)
2 cloves garlic (minced)
2 tsp olive oil
2 tsp cumin
pinch of salt and pepper
Instructions
In a large pan over medium heat, saute garlic in olive oil and add onions. Cook until the onions start to caramelize.
Add ground turkey, cumin, salt and pepper and cook until browned.
Mix in 1 cup of salsa with turkey mixture until well combined.
Spread 1/2 cup of salsa on the bottom of a large casserole dish.
Top with tortillas (only enough to cover the tomatoes) as your first layer.
Spoon 1/2 of the turkey mixture on top of tortillas with 1/4 cup of cilantro and 1/4 cup of cheese on top.
Top with another layer of tortillas, the rest of the turkey, cilantro and 1/4 cup of cheese.
Add final layer of tortillas.
Top with the rest of the salsa and cheese.
Bake at 350 degrees for 20-30 minutes, or until cheese is bubbly. You can also cover the dish, store in the fridge overnight and cook the next day.
Notes
Serve warm with some avocado and salsa on top. Pair it with a green salad and you have a complete, balanced meal!
http://deliciouslyfit.guru/turkey-taco-pie/
Since it's Wednesday, I'm joining Jenn for What I Ate Wednesday. Be sure to head over to her blog for all of your delicious eats!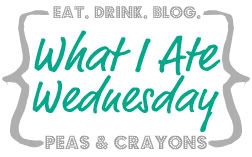 Have a great day!
Questions:
Do you have meals that are your "regulars," cooking them at least once a week or every other week? 
What is your favorite "regular" meal?