Happy Hump Day!
It has been a long time since I did a traditional WIAW post, in fact I can't even remember the last time I posted what I ate (partly due to forgetting to take pictures of my food!). Since I actually remembered to take pictures of my meals yesterday, I'm joining Jenn to share my eats for this weeks' What I Ate Wednesday.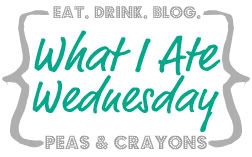 Pre-workout snack:
Half of a banana
Breakfast:
Breakfast of champions: Peach Cobbler Made With Oat Flour with a dollop of almond butter and some blueberries…SO good!
Lunch:
Two hard boiled eggs (that I ate too fast for a picture) and a peach salad (fresh peaches, cranberries, walnuts and feta cheese with balsamic vinegar and olive oil).
Snack:
My favorite chocolate protein shake!
Dinner:
A new experiment…eggplant pizzas which turned out okay.
Nightcap:
Sam Adams Tasman Red beer while watching Orange Is The New Black, the perfect way to end the evening after cleaning house all day. Sorry, no picture!
Oh, don't forget to enter my Jamberry Nails giveaway to win 2 sample sheets! Contest ends tomorrow at midnight PST!!
Questions:
How do you like to end a long day?
What is one thing that you have eaten today?